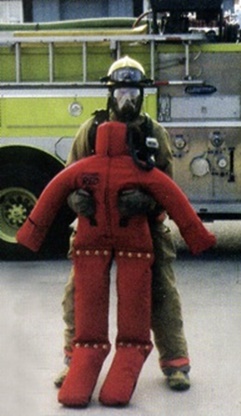 Legs and back are reinforced with 18oz. heavy gauge vinyl for longer life.
Tough! Tough! Tough! Rugged Red Rescue Dummies with Truck Bedliner Deluxe Model
We make the Rugged Red's so well, it may be the last training dummy your department will ever need DUE TO OUR TRIPLE LAYERS OF PROTECTION!
We cover the Deluxe Model's back and legs with truck-bed liner!
Our Rescue dummy is used by:
Military Personnel
White House Security Police
Fires Science Training Academies
VA Hospitals
Colleges Safety Teams
Emergency Personnel
Police and Fire Departments to train in rescue maneuvers such as smoke filled or collapsed buildings, ladder and pole-top carry-down procedures and confined spaces.
Wind Farms
Weighted Belt for Rugged Reds
This product will allow you to increase the weight of your Rugged Red Rescue Dummy by extra 25#. Price is $132 + SH.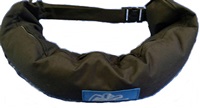 Introducing Econo Man and Econo Kid!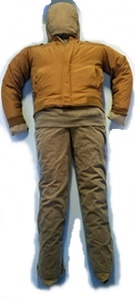 Miranda Hayes, Niagra Emergency Management, July 2019 -
First, I would like to say we absolutely love our Rugged Red! Before we started really getting it dirty, we took it to our High School Traffic Safety Fair and an event where we had a tent set up for Volunteer Fire/EMS recruitment. Teens at the fair and recruitment event were challenged to "Beat the firefighters time". Young children especially liked trying to pull the child-size. It was such a big hit that we decided we would like to continue this at future events.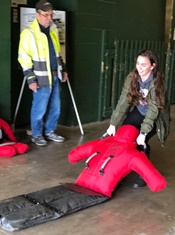 Regular Rugged Red
with replaceable wear parts
Each Regular Red has 1 set of leg protectors to protect when dragging on asphalt. Leg protectors attach to legs and can quickly be removed when not needed. Protectors are made of recycled rubber to give a natural feel when dragging.
We cost a bit more due to the cost involved in making our products. Rest assured you are getting the most durable and long lasting training dummies available!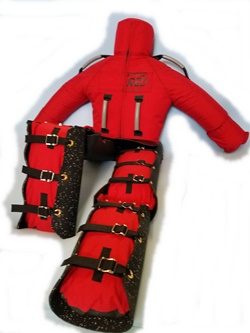 Regular Rugged Red with recycled rubber leg protectors for dragging on asphalt, etc.
Regular Rugged Red Opt #1 Front View

Set of full leg protectors $109.

Regular Rugged Red Opt #1 Rear View

First full set of leg protectors FREE with purchase of Regular Rugged Red Option #1!
We do custom orders!
Drag Harness comes with Rugged Red Rescue Dummy purchase.
Weighted with sand and foam filler for extra protection, these dummies can be placed flat on their back or in a sitting position. The weight is distributed properly to assure human-like feel.
Two pockets on the front for thermal imaging training capabilities. All that is necessary is inserting hand warmers into the pockets.
Replaceable mittens to protect hand areas.
Handles on chest and shoulders for better gripping and control.
Can be placed in a sitting position or flat on his back.
Has a heavy hose inside to give the arms a sturdy feel and prevent pinching when lifting for dragging.
The lower legs are 2 pieces joined together with fasteners that are easy to remove for replacement. Removing lower legs can decrease weight by 25 lbs.
Legs are reinforced with heavy weight vinyl to give your high-wear areas lasting protection. Or you have the option of sprayed truck-liner on the back of the legs and torso.
One set of asphalt leg protectors included
with each Rugged Red Option #1!
Rugged Red Rescue Dummy Series Specifications & Prices:
Weight

Regular Model

Extrication Model

Rugged Red -

Option 1

180 lbs. Rescue Dummy

$1,521

$1,573

165 lbs. Rescue Dummy

$1,507

$1,560

150 lbs. Rescue Dummy

$1,493

$1,534

Set of leg protectors (recycled rubber)

$109

$109

Rugged Red

Deluxe

Model -

Option 2

Upgrade back area and legs from vinyl covering to truck bed liner for additional fee of:

$424

$424

Option 3

Kid's Rugged Red

Weight

Price

48" Kid's Model
40 lbs.
$721
42" Kid's Model
30 lbs.
$642
(Prices are in U.S. currency. Please contact us for quotes. Quotes within the USA are guaranteed for 90 days. Quotes for overseas shipping are guaranteed for 30 days. Shipping & Handling rates vary by product.)
* 3-Year Warranty is NOT applicable to Econo Man and Econo Kid.
A light weight adult or kid-sized training dummy that won't break the bank. Great for disaster scenarios such as search and rescue or mass casualty training situations.
Dummy color is a charcoal grey 15 oz. fabric. Made with a foam filler. Clothes are not included.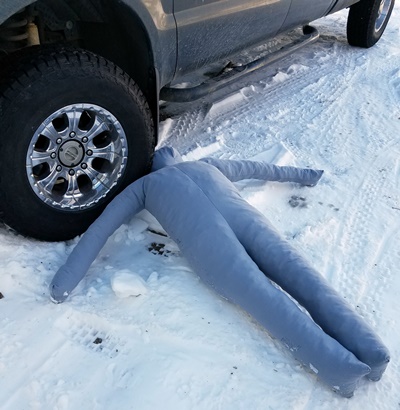 Push Econo Man from 3rd story, run him over or bury him in a collapsed buidling!
Econo Dummy Series Specifications & Prices:
| | | |
| --- | --- | --- |
| Height | Weight | Price |
| Six Feet | 17 - 20 lbs. | $479 |
| | Buy a 4 pack of Econo Man and Save! | $1,815 |
| Four Feet | Approximately 8 lbs. | $303 |
(Prices are in U.S. currency. Please contact us for quotes. Quotes within the USA are guaranteed for 90 days. Quotes for overseas shipping are guaranteed for 30 days. Shipping & Handling rates vary by product.)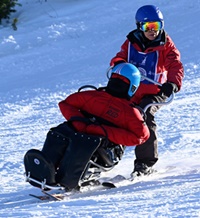 Our products are so Tough! Just a reminder that the Melting Point of Cordura Fabric is 358 degrees C. So, at that temperature the fabric should begin to melt. Please don't put Rugged Reds, Kids Reds or Police Model training dummies against open flames. Also, the fabric is water resistant, but not waterproof. If questions, please give us a call at 307-266-4662.
Who We Are-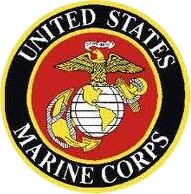 OK Fine Productions is a Service Disabled, Veteran-Owned Small Business. We can provide a sole source letter for our business and are registered on the SAM. Our Duns Number is 019684088.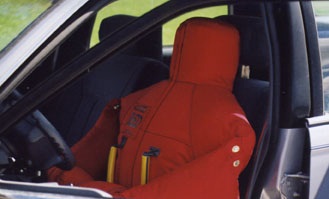 Shown above and below is the Rugged Red Extrication model with folding arms.

Rugged Red is built to last with reinforced stitching and rugged fasteners. Above is the Extrication Model, option 2, with articulating arms.

Rugged Red Option 1 with vinyl covering on back.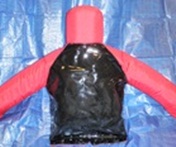 Rugged Red Option 2 with Truck Bed Liner upgrade on back.
"Our Sheriff's Office has been using the Rugged Red drag dummies for several years now and we have been thrilled with their durability. We went through several brands prior to using the Rugged Red and they were destroyed during our training and physical fitness qualifications. We have several variations of the Rugged Red dummies now and they have all held up flawlessly throughout our very harsh treatment. The 25lb weight belt provided by OK Fine Productions has helped safely change our drag dummy weight and is just as robust and reliable as the Rugged Red. Training dummies are essential for helping keep our deputies in shape and prepared for real life emergencies and these are hands down the best we've used. I can't speak highly enough about the help and service provided by OK Fine Productions...buy from them with ABSOLUTE CONFIDENCE."
Corporal David Marsh Forsyth, County Sheriff's Office, April 19, 2016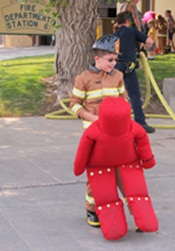 "A Day in The Life of a Firefighter" Future Firefighter Jason dragging Kids Rugged Red